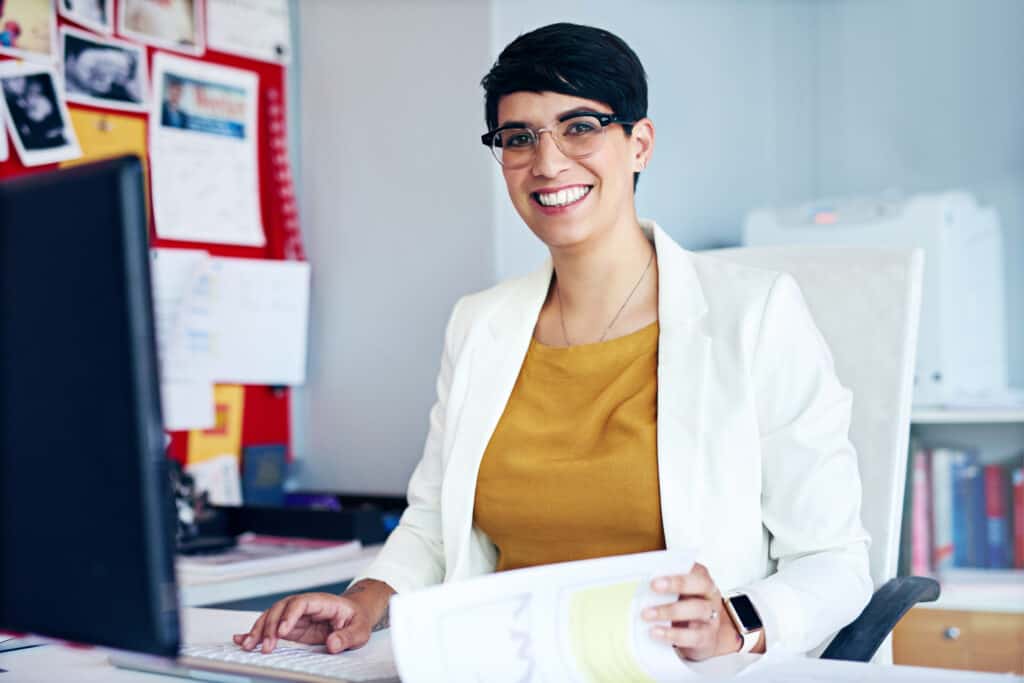 Are you a new or prospective real estate broker in North Carolina? If so, you may be weighing the pros and cons of different types of brokerages, such as traditional vs. hybrid real estate brokerages. Before you decide which type of brokerage is right for you, be sure to review your options and investigate the advantages and disadvantages of each. To help you out, we've put together some info on hybrid real estate brokerages in North Carolina.
(Editor's note: This blog post reflects the latest salary statistics from our 2019-2020 North Carolina Real Estate Broker Income Guide.)
What are hybrid real estate brokerages?
Before Redfin and Zillow and 3-D video tours became the techno-tools for finding a property, real estate brokers guided clients through the minefields of buying and selling a house. Today, the vast majority of home buyers rely on the internet as a primary research tool. Searchers may find a home on Realtor.com, view the property on their smartphone, and figure out how to write a sales contract on YouTube. The broker still plays a role in the sale, but he or she is no longer the gatekeeper who can regularly and unquestionably command a 6% commission.
Hello, hybrid real estate brokerages. The hybrid brokerage model is a sales alternative that, in some cases, replaces commissions with flat fees and offers a menu of a la carte services. Mainstays of traditional real estate brokerages, like manning a Sunday open house or printing a glossy brochure, are hybrid line items that determine how much a client pays for services rendered.
FREE DOWNLOAD: Get your free North Carolina Real Estate Career Starter ebook to start your career in real estate today!
The "hybrid" part of the title admits that these brokerages also offer some services pioneered by their traditional and discount predecessors, like advising on price and negotiating a sale. And in reality, traditional shops have always adjusted commissions in a down market or for loyal customers. So there aren't as many differences between the two models as each might want you to think.
"Indeed, the relationship between hybrid and traditional brokerages may be more symbiotic than adversarial," says an Inman report titled How Hybrids Brokerages Are Changing Real Estate. "The two types of brokerages are feeding off each other, breeding new business models that offer something from both worlds."
The hybrid brokerage difference
There are large differences between different types of real estate brokerages, including the company's structure, operation, philosophy and income, according to our 2019-2020 North Carolina Real Estate Broker Income Guide.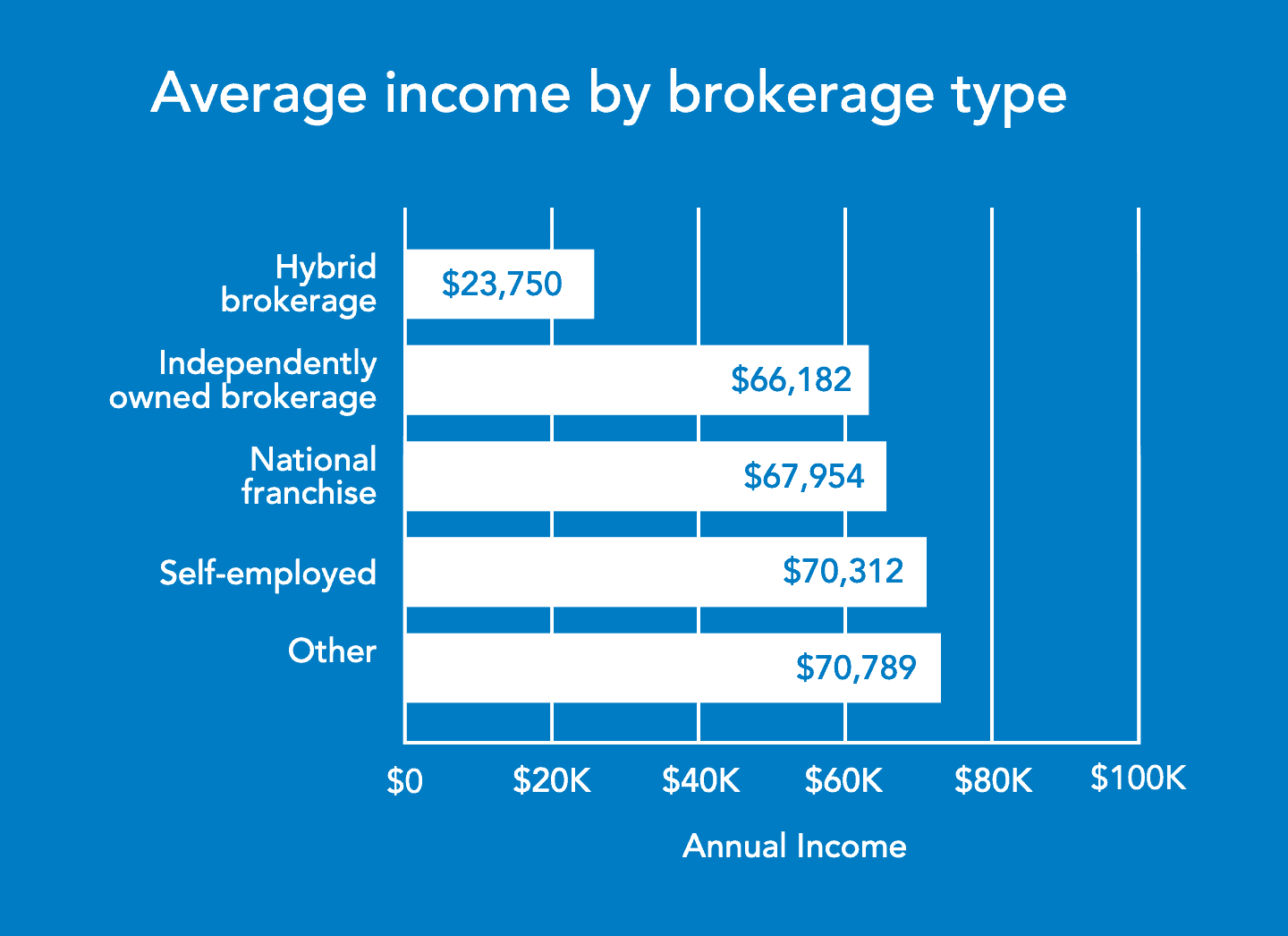 Hybrids typically veer away from traditional broker commissions that hover at 6% and are split between listing and buyers' agents. Hybrids often discount the listing commission from 3% to 1% to 2% (it can't mess with the buyer's agent commission or risk a punishing shun). Or they charge a flat listing fee—sometimes thousands—and provide a commission rebate. Redfin, the largest and most famous hybrid brokerage nationwide, hands 15% to 45% of commissions back to buyers.
Pros and cons of hybrid real estate brokerages
Here are some advantages and disadvantages of working for a hybrid real estate brokerage:
Pros
Flat fees and low commissions can attract a volume business that lets you begin relationships with many, and hopefully, life-long clients.
Techno-advanced hybrid brokerages easily connect with millennial homebuyers. Millennials do a tremendous amount of research for homes and agents online, then hire an agent to shepherd them through the buy/sell process, according to Zillow.
Some hybrid brokerages have a division of labor—a field broker shows the house, another draws up documents, a third may handle closings. If you're a people person, you may be able to land a job as a field broker and never have to fill out a disclosure statement.
Many hybrid brokerages reel in customers and feed them to their brokers. You won't have to cold call looking for listings.
Some hybrids, like Redfin, pay brokers a salary plus benefits. This is nice for risk-averse brokers who like knowing when their next paycheck will arrive.
Cons
The average annual income of brokers who work for hybrid real estate brokerages is lower compared to other types of brokerages.
Some people love the thrill of the chase and the possibility of earning big bucks on huge sales. If you're going into real estate for the adrenaline rush, then hybrids aren't for you.
At some hybrid brokerages, agents have set work schedules. This may be a downside if you're looking for a flexible schedule where you can set your own hours.
Teams and mentors are old-school sales approaches, but they can teach a new broker the ropes and launch careers. If you want to be under an experienced broker-in-charge's wing, hybrids won't be a good fit.
North Carolina real estate brokerages vary based on their structure, philosophy, and broker earnings. If you're just kicking off a real estate career or considering switching brokerages, look for one that is both a cultural and earnings fit. For additional guidance, check our post on How to Choose a Managing Broker.