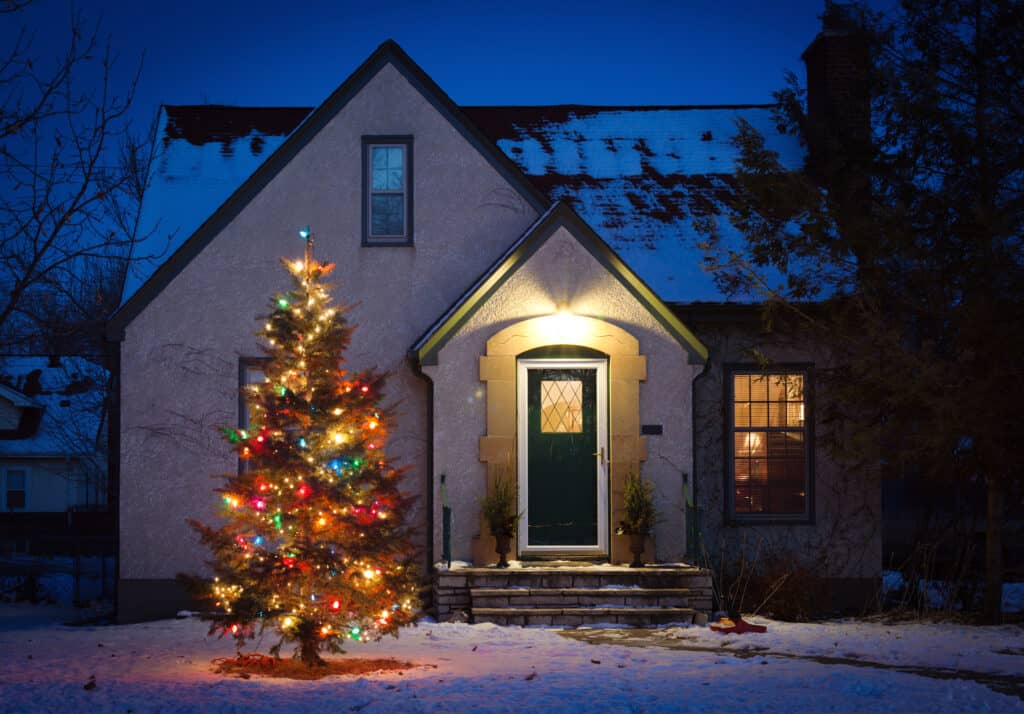 The idea of "home" is an important one in songs, stories, and movies that are set during the holiday season. As that magical time of year rolls around, we wanted to revisit some of the iconic homes that serve as idyllic settings for our favorite holiday movies and the lives of their characters.
While some of these famous holiday homes are the product of Hollywood magic, others are real-life private residences. Who knows? Someday you could find yourself with a new listing that's also the setting of one of the famous films on our top ten list.
1. 671 Lincoln Avenue, Winnetka IL, Home Alone
Perhaps the most quintessentially homey residence on our list is the Home Alone house, the four-bedroom, five-bath setting for Kevin McAllister's first cinematic adventure. The home most recently changed hands in March 2012 for $1.585 million and is a beloved landmark in the picturesque town of Winnetka.
2. 3159 W 11th Street, Cleveland OH, A Christmas Story
If you're looking for a cozier home, look no further than the Christmas Story house where Ralphie received the best Christmas gift ever, an "official Red Ryder carbine-action, 200-shot, range model air rifle with a compass in the stock and this thing that tells time." Lovingly restored, the house is now a museum and is available for overnight stays, so you too can make your Christmas dreams come true here.
Free Guide: Learn how to increase your earning potential with this free North Carolina Real Estate Income Guide.
3. Warner Brothers Ranch, Burbank CA, National Lampoon's Christmas Vacation
While the Griswolds' brightly decorated home appeared to be located in snowy Chicago, in reality, it is an exterior set located on "Blondie Street" on the Warner Brothers backlot in sunny Burbank, California. Interiors were also shot at Warner Brothers Studios and, like in the movie, Todd and Margo's house is really next door.
4. 5135 Kensington Avenue, St. Louis MO, Meet Me in St. Louis
The original house that was the real-life home of the author and the setting for Meet Me in St. Louis has long-since been demolished and is currently an empty lot. The movie version of the house was built, along with an entire street of picture-perfect Victorian homes, on an MGM lot that no longer exists.
5. 24 Derby Road, Port Washington NY, Miracle on 34th Street
You, too, would believe in Santa if he arranged to gift you this charming Long Island home. You can still find this Cape Code beauty nestled on its lot in Port Washington, New York. It last sold in 1980 for only $114,000 and its value is currently estimated at upwards of $900K.
6. 128 Windsor Gate, Great Neck NY, The Preacher's Wife
If you're looking for a spectacular place to spend Christmas, you're in luck. The massive mansion featured in Whitney Houston's The Preacher's Wife is currently for sale. Featuring six bedrooms, six baths, and more than 8000 square feet of living space, the gated mansion belonging to the film's antagonist Joe Hamilton is listed for $5,988,000.

7. 55 Central Park West, New York NY, Elf
When Buddy the Elf hit New York City, he landed at a great address on the Upper West Side. The apartment that served as the home of Walter and Emily is located in a 19-floor co-op dating from 1929. This movie home isn't just famous for its Elf associations; it also figures prominently in the 1984 film Ghostbusters.
8. 10 Downing Street, London, Love Actually
Unfortunately, you can't buy the home that serves as the setting for many of the most famous scenes in Love Actually. That's because it is 10 Downing Street, the British Prime Minister's residence and the setting for Hugh Grant's dancing and romancing in the film. In reality, of course, Grant's scenes were shot on a set at Shepperton Studios in order to allow the British government to continue operating as usual.
9. 144 Riverside Avenue, Riverside CT, The Family Stone
Situated on 1.4 acres, the 1860 Federal home that is the spectacular setting for The Family Stone is located near Riverside Yacht Club in Riverside, Connecticut. This historic landmark last sold in January 2008 for $4.102 million. Here you'll find five bedrooms, three and a half baths, and that magnificent wraparound porch that features prominently in the film.
10. RKO Ranch, Encino CA, It's a Wonderful Life
Ending with, perhaps, the most beloved Christmas classic, It's a Wonderful Life's sprawling Victorian home is another piece of movie magic constructed on the RKO Ranch backlot. However, the Martini home in the film still exists at 4587 Viro Road, La Canada Flintridge, California. This charming home features just under 2000 square feet and sold in June of this year for $1.625 million.