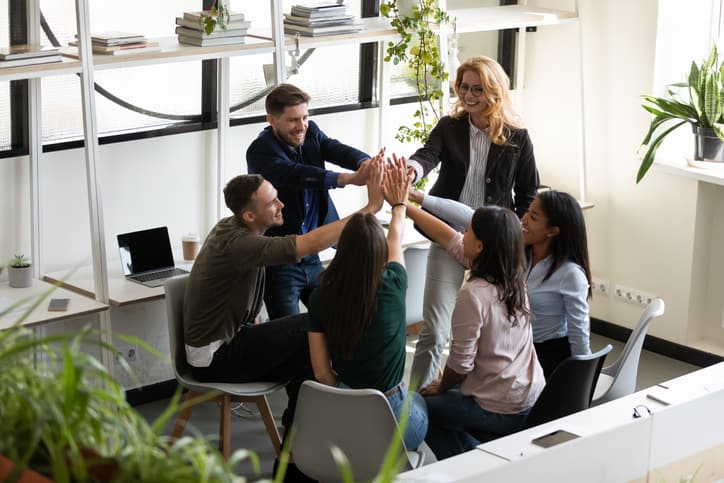 All great companies—whether in real estate or other industries—use their company culture to attract the best employees. Do you want to work at a big-box franchise? Or would you rather partner with a local boutique office? Do you prefer a brokerage that holds weekly meetings in a conference room? Or do you prefer one that brings in lunch on Fridays before touring for sale properties via caravan?
As a new North Carolina real estate broker, choosing a brokerage with a culture that suits you can have a tremendous positive impact on your real estate career. Here are four ways real estate brokerage culture can affect your bottom line.
1. Brokerage culture and your performance
When everyone in your office is working toward a common goal—whether that's a certain number of home sales or becoming the top-ranking brokerage in town—you'll feel compelled to put forth the extra effort to achieve that goal. Seeking out a brokerage with a team spirit, where goals are clearly communicated, can have a positive impact on your success.
2. Brokerage culture and your happiness
A positive real estate company culture can keep you satisfied and happy with your career choice. This doesn't mean that brokers need to be holding hands and singing "Kumbaya." But it does mean people are happy to be there, have a sense of camaraderie and support, and share an overall sense of enjoyment that comes from being part of that group.

3. Brokerage culture and your engagement
As a new real estate licensee, it's important to find a brokerage that can support you in the way that you wish to be supported—whether you want mentoring, continuing education programs, a better commission split, a certain type of team spirit, or simply to be left alone to do your own thing.
4. Brokerage culture and your lead generation
The size of the brokerage also plays a big role in its overall culture. Large franchise brokerages like Coldwell Banker and RE/MAX often have a more corporate-like company culture and have practices in place that drive quality leads to their brokers. Smaller North Carolina real estate brokerages may not have these carefully planned systems, but they might be more agile and give you more room to experiment and take chances. While you may love the family-like company culture of the mom-and-pop brokerage, you might have to do more lead generation work on your own.
Brokerage culture is super important when it comes to choosing among different real estate brokerages. To ensure that a brokerage has the culture you're looking for, spend some time there. Interview the broker-in-charge and a few brokers. Research them online. Selecting a North Carolina broker-in-charge is a big task. Listen to your head and your gut when you make the decision, as it will surely impact your real estate career.