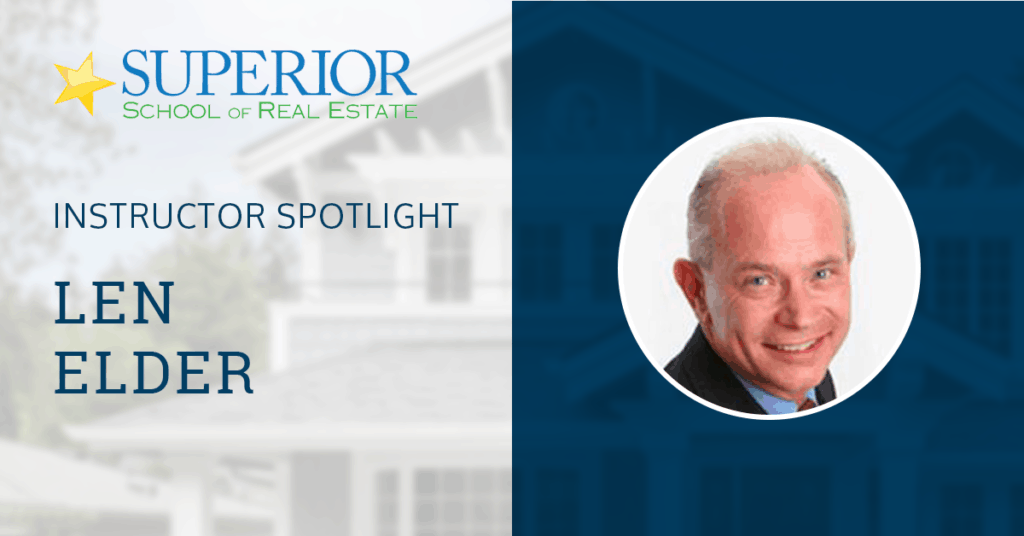 In the second installment of our Instructor Spotlight (click here to read our conversation with Bill Gallagher in the first Instructor Spotlight), we talked to Len Elder, one of the leading real estate instructors in the country.
In January 2019, Len Elder, JD, DREI, CDEI surpassed 40,000 hours of live classroom teaching. He believes in making a difference in the lives of his students and has been named both an Instructor of the Year and written the national Course of the Year. As a past board member of the national Real Estate Educators Association and Past President of the North Carolina Real Estate Educators Association, Len is currently the Senior Instructor at Superior School of Real Estate and is nationally recognized for conducting instructor development workshops for 20 different states.
We had a chance to sit down with Len and ask him some questions about real estate education.
Why did you start teaching real estate?
When I walked into my first real estate class as a licensee 25 years ago, most students said that the reason they were there was to complete their required hours or get a certificate. That seemed to me to be an incredible waste of time and miss the point of education. I vowed to myself that I would help change that. I've spent 25 years creating content that causes students to come to class because they wanted to learn something new and grow as a professional. I wanted courses to have content that provided practical value and tips to real estate professionals that they could actually use. I wanted people to come to class because of the experience and the education it provided, not just to get a certificate.
What is your favorite part about working in real estate?
People, people, and people. I am a "Broker-in-Charge." Our office has approximately 100 agents who help change people's lives every day. Whether you are acting as a licensee or an instructor, you get to meet people who have dreams, goals, and aspirations. They are inviting us and paying us to help them accomplish something. There just aren't that many professions where at the end of the day we can say we helped someone else today accomplish a dream or a goal.
What do you like about being an instructor?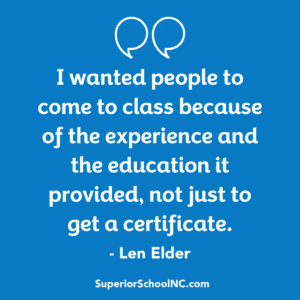 Sharing and seeing other people succeed. I think I have a passion for what I do. I used to think that passion meant enthusiasm, energy, and excitement. Today I believe that passion occurs when you care more about what someone else is trying to accomplish than anything you have ever done.
Teaching real estate is so much more than just providing people with rules, statutes, and words. Real teaching happens when you inspire people to want to get better, when you share and give them things that increase their success and when you provide encouragement and reinforcement that they can achieve whatever it is that they envision. Helping others see and nurture what they cannot see sometimes in themselves is the most rewarding part of teaching.
How would you describe your teaching style?
Pulitzer Prize-winning author Frank McCourt wrote a book called Teacher Man in which he says, "In the classroom I was a drill sergeant, a rabbi, a shoulder to cry on, a disciplinarian, a referee, a clown, a counselor, a conductor, a philosopher, a tap dancer, a fool, a priest, a mother, an aunt, a father, a critic, a psychologist, the last straw." That's me. You have to engage the students. You have to find ways every day to touch and connect with them.
I have stood in front of people my entire life: as a national debating champion, as an attorney practicing civil litigation, as a magician on stage in Las Vegas, as a leader, as a speaker, as an instructor. What connects it all and makes it work for me is empathy. Identification with your students, feeling their struggles, frustrations, hopes and dreams, and then figuring out how to push them forward. So any given day I might appear as any one of the roles that Frank McCourt listed.
What should prospective agents know about real estate?
Success depends on you. Forget anything and everything you have ever seen or read about average income, average pass rates, average deals closed and average performance. Who wants to be average? I know many people who stepped into real estate and it changed their lives. They make six-figure incomes, have control over their time and activities and are happier than they ever dreamed. I know people who have failed miserably.
No one can determine your success except you. If you like people, if you get joy and satisfaction out of helping other people accomplish something, if real estate is interesting to you, then go for it. It is a demanding and rewarding profession, but no one is going to make sure you succeed and you don't get any guarantees. You will get out of it, exactly what you put into it. If you are committed to that, if you have promised yourself that you will do anything to reach your goals and dreams, then I can help show you ways and paths to do just that, but in the end, you are the one who has to walk those paths.
What does it take to be successful in real estate?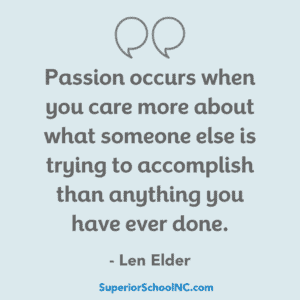 Surround yourself with people who know the business and are willing to share and help you. It's a tough business to learn on your own. When you are selecting firms to work with and offices to affiliate with, stop focusing on commission splits, fees, and costs. They are the least important thing. A 100% commission split of $10,000 in real estate commissions is a lot less than 50% of $200,000 in commissions.
Find people you like and want to be around. Find people whom when you get up in the morning you want to go spend time with and are excited to see. If you hate going to work and the people you work with, no amount of money will keep you in this business.
How important is education?
I believe education is everything. Without it we don't understand the industry, we can't perform basic tasks, we can't grow our business, we don't understand markets or tactics, we risk disciplinary actions and legal pitfalls. Most importantly we can't serve people at the highest level and serving people is the definition of real estate obligations.
Get excited about learning. Take more classes than what a regulatory agency said you need for minimal competence. That's really what the requirements are: the amount of education you need as determined by a government agency for minimal competence in the industry. You can't be successful if you are only minimally competent. You don't have to learn it all in a classroom. Get online, attend conferences and workshops, sign up for social media groups that interact and share things, join professional associations and groups.
Want to take one of Len's classes?

Check out our pre-licensing and post-licensing class schedules to see when Len is teaching next!