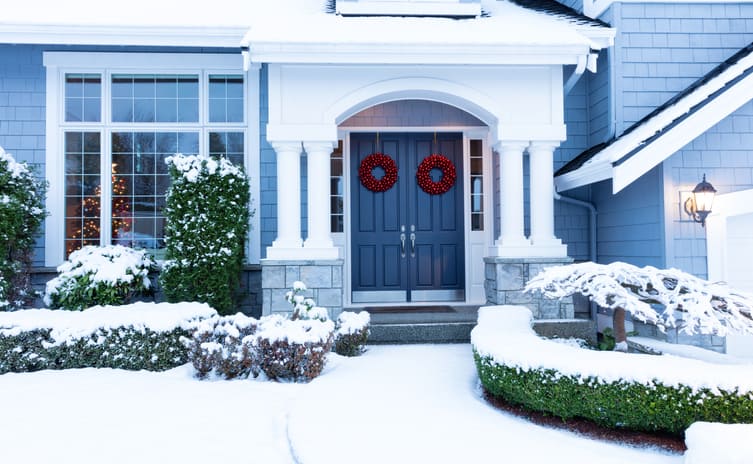 Selling a house around the holidays can be a difficult task. There's a traditional assumption that this is when the market slows down. Despite that, many North Carolina real estate brokers earn more by capitalizing on less inventory to drive demand for buyers who truly are looking to move before the new year. Homes can sell this time of year—if you know how to do it right. Here are several tips for hosting a successful and stress-free holiday open house.
1. Safety first
Make sure the walkways and stairs are free of ice and snow. This will not only give the home a more polished look, but it will also ensure the safety of potential buyers. If you don't already carry a shovel in your car this time of year, it might be helpful to travel with one in case your client doesn't have proper snow-removing tools. A bag of salt can go a long way, too!
If the weather outside is frightful, it may be best to reschedule the open house. Make sure to keep an eye on the forecast in case of any storms coming your way.
2. Make it cozy
Make sure the thermostat is turned up when it's time for the open house. If buyers are uncomfortable from the cold, they are less likely to enjoy their visit. It's good to advise your clients of this before the open house starts so the house has time to warm up if they typically keep the thermostat low.
3. Deck the halls
Get into the spirit of the holiday season. Encourage sellers to incorporate holiday décor into their open house. Twinkling lights or a scented holiday candle can welcome buyers and lift spirits. Put on some soft classical music and offer homemade holiday cookies, hot cocoa, and other snacks that will encourage prospective buyers to take shelter from the cold.
Free Checklist: Earn 5% more for every listing with this simple checklist.
4. But don't overdo it
Though holiday decorations may create a cozier atmosphere in the home, you don't want to overdo it. Anything that may distract from the home's curb appeal—Santa and Rudolph inflatables, for example—should be put away until after the showing. Also, make sure your decorations are culturally sensitive. Skip the religious décor and instead keep it festive and fun.
5. Put the presents away
'Tis the season of giving—but not to potential buyers. Make sure you pack expensive gifts and treasures away. Not only do many presents clutter the home, but they can be awkwardly personal for a new family trying to imagine their own future memories in the home.
6. Market early and creatively
The holidays a are a busy time of year for people. Start your event marketing as soon as possible so prospective buyers can get it on their calendars. And you need a powerful listing description! You want to engage your clients to feel excited about the home—especially about what the joy of purchasing a new home during the holidays will mean for them. Try to capture the excitement of the holidays to drive interest.
7. Be respectful of homeowners' time
The holidays are a busy time during which people want to spend time with family and friends. Be as flexible as you can when trying to schedule your holiday open house. Point out that an open house is an opportunity to show the home to many potential buyers at once. Scheduling one longer viewing window during this time of year may be far more convenient and effective than requiring them to clean and vacate their home multiple times to accommodate private viewings.
The bottom line is, the work doesn't stop just because the holidays are here. Use this time of year as a reason to brighten your open houses, not as an excuse to give up. Some North Carolina homebuyers are specifically looking to purchase during this time of year, and you might have just the perfect property for them.