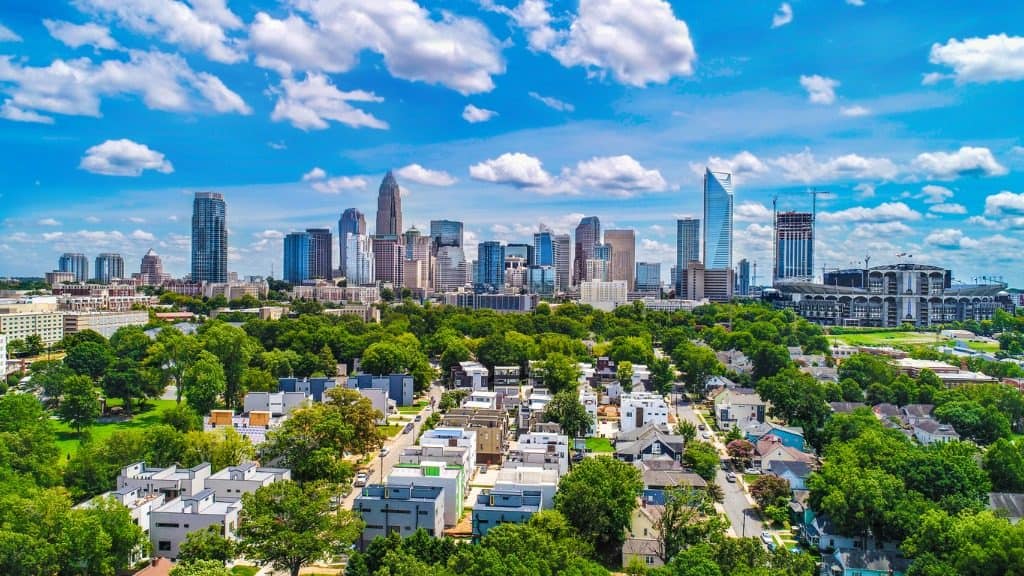 Real estate can be an incredibly lucrative field that offers a lot of opportunities for professional growth. There are a large variety of jobs within real estate that appeal to different skill sets. So no matter what background you're coming from, you'll most likely be able to find a niche within the industry. Let's walk through how to get your first real estate job, from completing education requirements to landing your first client.
What You Need to Know for Your First Real Estate Job

Here's what you need to get started in North Carolina real estate.
Education
Securing a job as a real estate salesperson starts with education. If you want to be a real estate broker, you'll need a license. And the easiest way to go about getting one is by taking a pre-licensing course.
A common career progression as a real estate broker in North Carolina looks like this: You start off as a broker working for a broker-in-charge, and then you eventually work your way up the ladder so that you yourself become a broker-in-charge with other brokers working under you.
Both steps—becoming a real estate broker and upgrading to a broker-in-charge—require a license. In North Carolina, for instance, in order to qualify to be a broker-in-charge, you need to satisfy all of the following requirements:
Two years (out of the past five) of working experience as a broker.

A 12-hour course with the North Carolina Real Estate Commission.
Different Real Estate Jobs
When you hear that someone works in real estate, you probably assume that they work as an agent or salesperson. However, there are tons of other jobs in this industry, including:
Appraiser


Community Development Manager

Foreclosure Specialist

Property Manager

Broker

Agent

Leasing Consultant
Keep in mind that most of these real estate jobs differ in both the work environment and potential income, depending on whether you're dealing with commercial or residential real estate.
Free Guide: Kick off your career in North Carolina real estate with our Career Starter Kit. Download here.
Necessary Skills
Real estate professionals require certain legal licenses on top of a base-level education, though getting these licenses can usually be done by taking simple training courses. Whether you are listing a one-bedroom apartment in the Midwest or helping a large corporation find new office space, there are certain skills that all real estate professionals should have in their back pocket.
Basic Accounting and Math
If you shy away from numbers, you might need to brush up on your basic math skills before jumping into real estate. Basic experience with math and accounting is a necessary skill for virtually any real estate position, whether you're a broker or a property manager.
Knowledge of the Market
When it comes to buying and selling homes, location is everything. If you don't know the surrounding market, you don't know how much a house is worth. Specializing in a certain area can be a strategic career move, as referrals and word of mouth accumulate after you've worked with multiple properties in one area.
People Skills
Since the real estate business is heavily based on person-to-person interaction, it does help to have people skills. From addressing clients by name, sending handwritten cards, and showing up with a smile, simple personal touches can go a long way. It might sound like common sense, but personality could be the difference between landing a client and losing one. Plus, you're always looking to score coveted referrals as a real estate broker, so impressing your clients will hopefully lead you to new clients in the future.
Punctuality
Being on time is an easy way to impress potential clients, and to gain the trust of existing ones. Property visits and client meetings are an important part of being a real estate broker, and no one likes to be kept waiting. Remember: If you aren't early, you're late.
Broker to Broker-in-Charge: How to Climb the Ladder
As mentioned earlier, most real estate brokers-in-charge begin as brokers before moving to the status of a broker-in-charge or into another niche field—like luxury home marketing. A broker holds more of a managerial role, as they often oversee a team of agents, using their industry knowledge and experience to advise and lead. You can start your journey by finding the right broker-in-charge to work with, putting in extra hours, and demonstrating leadership abilities. Gaining experience as a broker provides the know-how for becoming a broker-in-charge down the line.
How You'll Be Paid
Most real estate positions work off commission, though they differ in whether a base salary is guaranteed on top of that commission. In many cases, a real estate job is completely based on commission, in which case you won't be making money unless you're selling properties. That being said, the pay is also dependent on the value of the properties you're dealing with. For example, the difference in the commission on a million-dollar home compared to that of a small apartment is significant, so consider what kind of market you'd be most comfortable working in before you begin your career.
Landing Your First Client
Now that you have all the necessary skills and licensing covered, it's time you learn how to land your first client.
Find a Broker-in-Charge You Like
Since most brokers work under a broker-in-charge, finding the right fit is a great first step. Once you find a brokerage that appeals to you, ask which specific broker-in-charge you will be working for. Research their reputation and ask if you'll be allowed access to broker leads. This way, you'll have the chance to represent a potential client with whom the broker-in-charge might have a preexisting relationship.
Build Your Online Presence
In this day and age, if you're not online, you're missing out on tons of opportunities. Since millennials are increasingly tech-savvy, it's just as important to represent yourself online as it is in person. Build a website, create social media pages on Facebook, Twitter, and Instagram, and post fabulous photos regularly. Don't have much to say about your business? Post about yourself! Let your clients know that you're a human being—it'll definitely help you down the line.
Research Your Desired Area
Pick an area and learn everything there is to know about it. Drive around, talk to homeowners, hand out business cards, and even go to an open house or two—it'll all help when it's your turn to take the wheel. When you do connect with a potential client in the area, you'll have a solid understanding of their options.
Now that you know everything about landing your first real estate salesperson job, it's time to get moving. Your career as a future real estate mogul is just waiting to unfold.