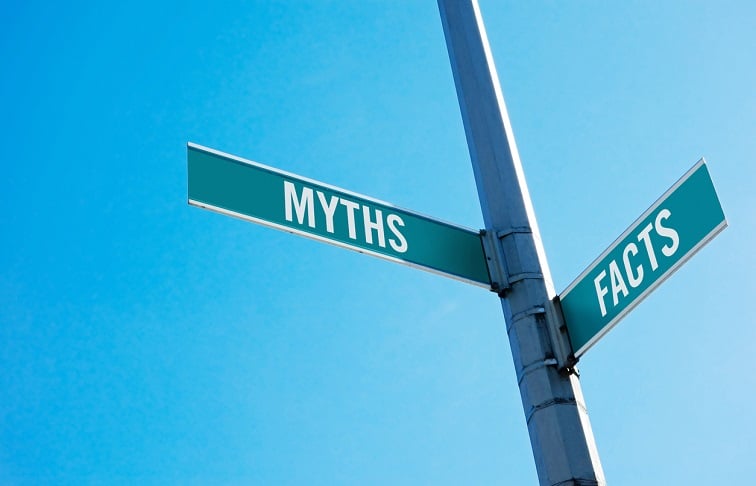 Getting into a North Carolina real estate career can be one of the most exciting decisions you make about your career, but there are plenty of myths surrounding the business that you shouldn't be taken in by. People in the real estate industry tend to be pretty happy about their careers, but there are still some things you should know that you might not realize until after you've started your new career.
Here's what working real estate brokers want new brokers to know about getting into real estate.
Myth #1—Sellers shouldn't update a home before listing it.
Some people believe that since buyers have their own taste, they would prefer to do their own updates to a home—after they purchase it. Sepehr Niakan of HB Roswell Realty says that's not always the case.
"Most of the time if you make smart mainstream upgrades or updates to your home, buyers will pay a significant premium over the cost of the upgrades," said Niakan. "Common updates would be new flooring, interior and exterior paint, bathroom and kitchen plumbing fixtures, baseboard upgrades and new light fixtures. A bit more expensive updates would be kitchen and bathrooms, but if done right those will bring you a significant return on investment."
He brings up another crucial point: "Houses that are updated tend to sell faster than homes that need work. And time is money as well."
Niakan shares this real-life example: "I learned this lesson before I was a real estate broker in my first condo. I had listed it and showed it for a few months with no offers. I took it off the market and got a friend of mine who is a designer to help me pick out a floor, paint, change the baseboards, and change the kitchen sink to a deeper. We changed the kitchen faucet and acid washed the floors in the bathroom and kitchen to make them look fresher. Before I even had a chance to finish all the renovations, I received a full price offer which was the original list price plus three times my renovation expense."
Myth #2—The first offer is the best offer.
It might be tempting to jump at the first offer because you are worried nothing better will come along. But Niakan explains why this isn't the best strategy:
"In my 13 years of experience selling hundreds of homes, I can assure you with 100 percent confidence that your first offer is rarely your best one. Will you sometimes have to wait some time for the next good one to come? Definitely, but if you wait for the right buyer, especially in an up market or a property with unique features, you will almost always win by having patience."
Niakan shares this real-life example: "I learned this in earnest while listing bank-owned properties for Fannie Mae. They would almost always list for 10 to 20 percent above market value, and they would almost always sell for at or above market value, while I watched other lending institutions unload their foreclosed properties at or under market value, many times because they would take the first good offer that would come through."
Interested in a career in real estate? Download our free Career Starter Kit!
Myth #3—Cash offers always the best offers.
Many real estate brokers might believe this is always the case because there are no concerns about financing. According to Jane Peters of HomeJane Realty, this isn't necessarily always true. "Cash offers may be lower than the traditional offer, and there may be terms that are not favorable," she said.
Think beyond the offer amount and consider these factors: settlement date, closing costs, inclusions such as custom furniture or fixtures that you want to remain in the house, and even personal emotions and details that can make a sale more gratifying for both sides.
Myth #4—Selling real estate is easy.
Television programs, seminars about real estate, and even social media can make selling real estate look glamorous—and easy. But chances are, through these channels you are only seeing the highlights and not the hard work taking place behind the scenes. 
"It's not rocket science, but there is a lot of info to know regarding the market, language of the business, lending, negotiating," said Brad Pauly. "Also, without a large network, it's not so easy to find clients."
"Surely, money can be made," said Denise Supplee. "But there are man-hours involved. For instance, showing homes takes time. And I have had clients I worked with for close to a year before finally getting to the settlement table. There are phone calls, hand-holding, negotiations and phone calls. Truly, if you were to add up the hours against the income, you would be surprised. So, be sure you have a passion for service and a love for real estate."
"Find a great [brokerage] company that caters to your specific needs," said Pauly. 
Myth #5—Spring is the best time to sell homes.
If you're just getting into real estate, you might have heard that you shouldn't list homes in the fall or winter—or around the holiday season. But because of this common belief, the market tends to be flooded with homes for sale in the spring, so your sellers will have a lot of competition. This "works against many sellers," said Michael Edlen.  
Edlen suggests being open to listing in other months to stay away from the times when there's extra inventory available. "In many areas, February to March is much better. Also, October can be an outstanding time to be on the market, before the holidays," he said.
Myth #6—What you see on HGTV is very much like real life.
Your love for home shows on networks such as HGTV might be one of the reasons you're getting into real estate. This is just fine—but don't assume your buyers will see three homes and decide which one they want. Again, here is another place where you are only seeing the highlights.
"I just showed 21 homes in one day to buyers from out of state," said Patricia Vosburgh. "They were military and moving here from North Carolina. They only had one day to see quite a few areas and make a decision about where they wanted to live. I put over 200 miles on my car that day. We also showed a client 75 homes before they made a decision. It will not be like HGTV and reality will set in when your buyer wants to see more homes."
Reset your expectations. People who work in real estate tend to be happy with their careers, but you have to be prepared to work hard and cater to the needs of your client.  
Myth #7—Your education stops as soon as you get your real estate license.
Nothing could be further than the truth. "If you are not keeping up with the trends, you will drop off by the side," said Denise Supplee. "Surely, you may hate technology. However, buyers and sellers today are more tech-savvy than not. And you will still need to be in the know for market conditions, legal changes, and the like."
Use all the resources at your disposal, including podcasts, blogs, seminars, and continuing education classes. "I try and read and take any classes that I can," said Supplee, adding, "most states have mandatory continuing education requirements anyway." As she put it: "The more you learn, the more you will earn. Remember, people are using you to guide them in the most expensive transaction in their lives."