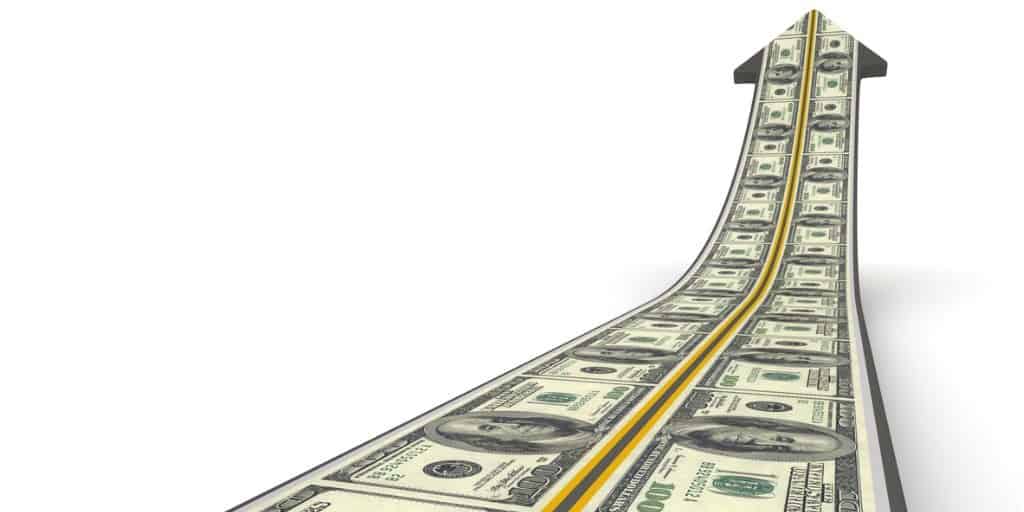 For many real estate professionals, the first year is the hardest. However, our new study, published in our 2020-2021 Real Estate Income Report, reveals a big incentive for sticking around: the average real estate income doubles after year one.
According to our survey, real estate brokers in North Carolina earn an average of approximately $20,000 when they had been in business for under a year.
However, brokers with between one and three years of experience saw their earnings increase to $42,190, and it doesn't stop there. Longevity in the business continued to be a strong predictor of take-home pay throughout a broker's career. Brokers with four to 10 years of experience reported an annual income of $75,936, that number jumped to $96,598 for brokers with 11 to 25 years of experience and went as high as $115,000 for brokers who had been active for more than 26 years.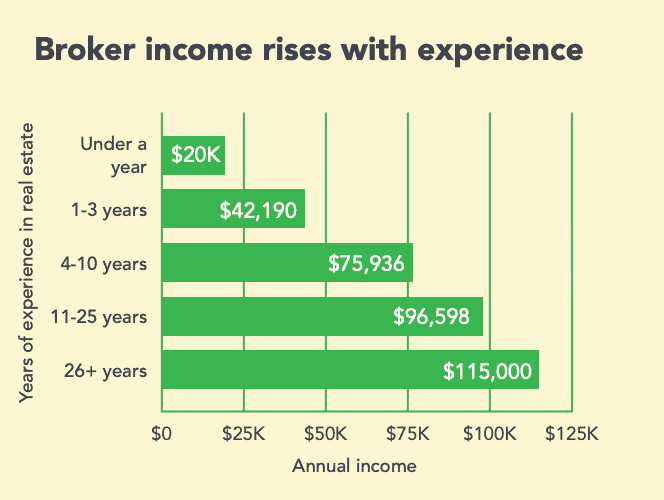 Real estate income grows for many reasons
Other factors influenced a broker's pay in addition to longevity. Everything from how many hours they worked a week, to the type of brokerage they work with, to their niche, played an important role in impacting how much they could expect to earn annually.
But it's undeniable that the longer brokers stay in the business, the more they earn.
FREE Guide: See how brokers in North Carolina are earning top dollar with our 2020-2021 Real Estate Broker Income Guide.
This can be welcome news to real estate brokers who are struggling through the early stages of their career and wondering when they'll see an uptick in their earnings. On average, the biggest one-time jump in income a broker will experience during their real estate career happens after the first year. However, it can be tough for new brokers to stick around long enough to breakthrough.
Here are some tips to help new brokers succeed in the first year of real estate and increase their earnings.
3 tips for first-year brokers to double (or triple!) real estate income
Staying in real estate long enough to see that initial income double is crucial, but it can be discouraging to keep going if the results aren't there. These strategies can help brokers stay in the business and continue improving.
1. Have savings to rely on in your first year
Do you know how much it will cost you to get started in real estate? Like any business, real estate requires some investment capital. Here are a few of the initial start-up costs you can expect:
Pre-licensing real estate classes. Estimated cost: $479+. You'll need these before you can take the real estate exam.
Brokerage fees. Estimated cost: Anywhere from $25 to $500 a month. Brokers-in-charge can take a commission on your real estate earnings or charge you a monthly desk fee, or both.
Marketing costs. Estimated cost: About $1,000 annually. Announcing yourself to the community and developing leads takes time and money. Be prepared to spend a significant amount of energy and resources in your first year on marketing.
Not only does it take money to start your business in the first year, but you'll also need money for living expenses while you're waiting for your initial transactions. The more money you have saved, the longer you'll be able to last in real estate while you're learning and waiting for your real estate income to increase.
How can you save money fast before going into real estate? Here are two budget apps that can help you stay on track:
Use a money management app. Apps like Mint allow you to track your savings and spending as your work toward your financial goals. Mint will send you updates to help you stay on target and automatically analyze your finances to let you know where you can cut some expenses.
Find an auto-saving tool. If thinking about putting aside money is stressful for you, or if you just forget to do it when you get paid, use an app that will do it for you. Apps like Digit analyze your finances and put small increments of money away automatically so you don't have to think about it. With their technology, they'll make sure you're saving money at the right time of the month so that you don't put money into savings when you have more upcoming bills and expected purchases on the way. Your saved money will sit in a Digit account and accrue 1% interest every three months.
2. Find a supportive broker-in-charge
A supportive broker-in-charge can be an impactful ingredient to broker success. Leaning on the collective wisdom and resources of other brokers will help you learn quickly so you can earn double real estate income after your first year.
Here are some ways to assess if a broker-in-charge is right for you.
Do they have a track record of being supportive and inclusive? Ask potential brokerages how many women or minorities are on the team and what common strategies they use to support new real estate agents. Do they have processes in place for new agents? Do they have examples of how they've helped new agents in the past?
What is the commission split? Since most real estate agents are paid on commission, if you want to earn double real estate income you'll have to find a brokerage that will take a fair cut of this commission and not take advantage of you. Your commission split will vary depending on your market, the size of the brokerage and your niche. Talk to other real estate agents in your market to get a sense of what a good commission split is for you.
3. Create a mentor relationship
Having a mentor you can look to when learning the ropes can help you double real estate income after the first year. Finding and cultivating a mentor relationship can be the tricky part. One strategy to consider is an inverse mentorship. If you're good at a skill that more established borkers don't have — like website building or social media management — you can offer to teach this skill while they teach you others in real estate.
Earning double real estate income is possible
The statistics show that the majority of brokers who last through their first year will see double real estate income after that. Learn the important lessons early on, recover quickly from your mistakes, and start earning top dollar!